Sign the Strike Commit Petition HERE.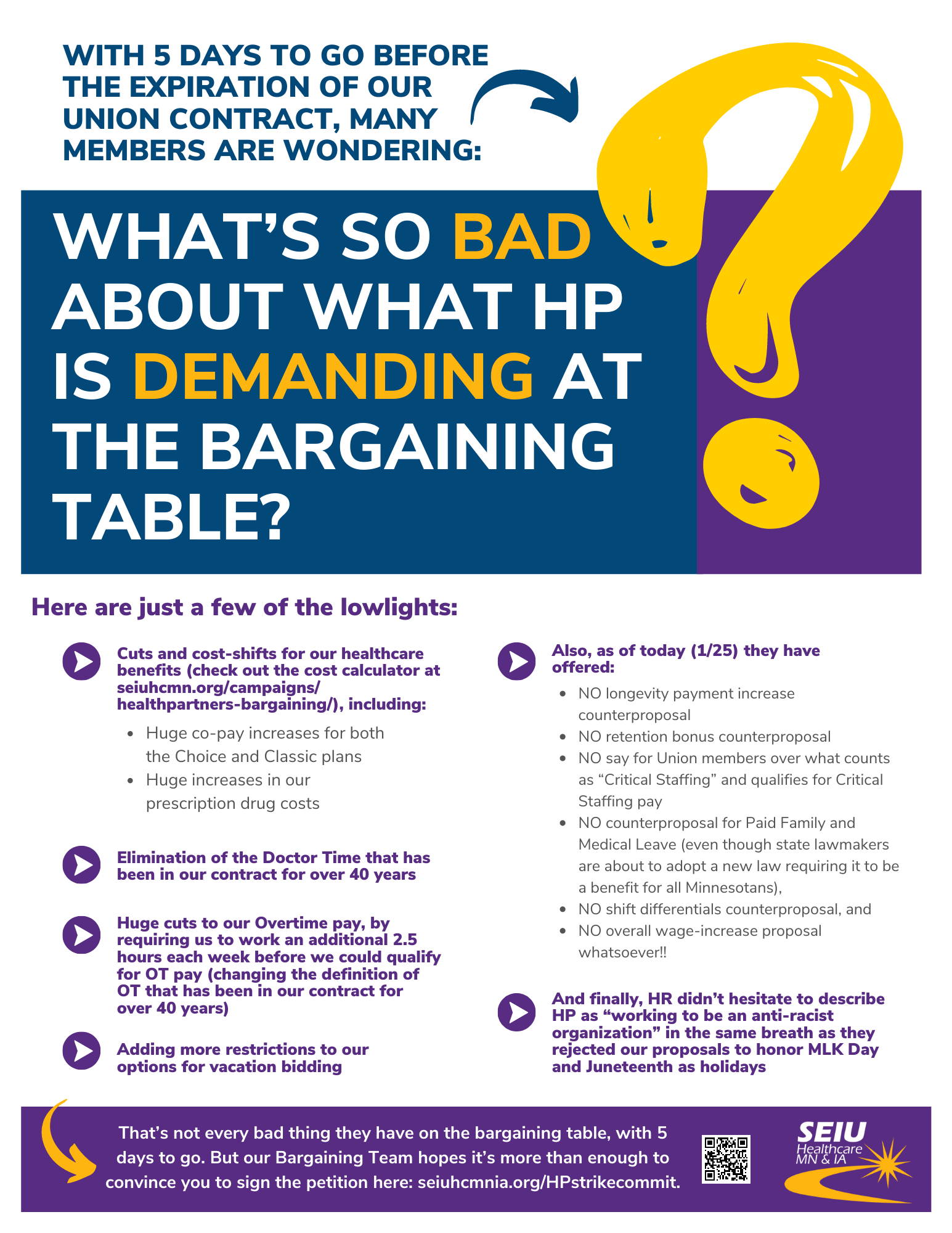 Video update
Bargaining Update - February 1, 2023 - 7AM
Special Update from the Negotiations Table from Wendy
(7:30PM - Tues, Jan 31, 202)
Bargaining Update - January 30, 2023
Bargaining Update - January 26, 2023
Bargaining Update - January 25, 2023
CAT Team Update - January 19, 2023
Bargaining Update - January 10, 2023
Welcoming SEIU members to HealthPartners
Bargaining Update - January 26, 2023
We are wrapping up another day of bargaining here at the 8170 building. Watch the video for an update from members Chris Grimes and Denise Enyi, but here is a very quick summary:
We made progress on some items today, including a number of smaller items but also including a couple bigger ones:

We convinced the employer to drop their demands for changes to our Overtime pay
After many years of pushing for it, we finally convinced the employer to move to three 4-month bid periods per year for vacation, instead of two 6-month periods

Despite some progress made today, nearly ALL of the bad employer demands summarized in our flyer yesterday remain on the table, with just two days of negotiation remaining. This includes (among many others):

No change whatsoever in the employer's demands for changes to our healthcare benefits
No wage-increase or other compensation increase proposals of any kind
We only have two more days of negotiations scheduled before the contract expires on Tuesday night, and we are a long long way from an agreement. Unless we see big progress on the remaining items on Monday and Tuesday, the bargaining team expects to call for a strike-authorization vote. However, to be sure we have the strength to take that step and put real pressure on HP, we need more members to sign the petition. If you haven't signed yet, please do so right now.
Also: if you have copies of paper petitions that have not yet been turned in, please take a picture of them right now and email to our organizer (and former longtime CMA at the Wabasha clinic) Lynda at Lynda.moua@seiuhcmnia.org. We have heard about petitions circulating in some clinics that have not made it to us yet. We need the information on those petitions in order to assess our strength and to know where to focus efforts to get more signatures over these last few days of our contract.
Finally: we would love to get pictures of members – either individually or in groups – for us to print out and post in the room at 8170 where we are doing negotiations, to remind the employer of all the fellow union members we are here representing. If you can take a quick selfie or group picture, wearing your buttons, raising your fists, smiling, frowning, whatever you think appropriate, please send it to Lynda at Lynda.moua@seiuhcmnia.org and we will get them printed and posted on Monday.
Bargaining Update - January 23, 2023
We are headed into the final week of negotiations for a new three-year contract with the employer. Your elected bargaining team of 24 awesome member-leaders from all across the organization will be bargaining at the 8170 building all day Tues., Wed., and Thurs. of this week, and then again on Mon. the 30th and Tues. the 31st, going as late as we need to those nights to see if we can reach a fair agreement.
As you've probably heard from coworkers or seen in our updates (BARGAINING UPDATE | CAT UPDATE), things are still moving slowly at the bargaining table. We haven't received any response yet from the employer to our wage, retention-bonus, differentials, longevity-bonus, and other direct compensation proposals. And they haven't moved an inch from the healthcare-benefits cost-shifting they proposed back in December (if you haven't looked at the healthcare cost calculator yet to figure out how much more you would be paying, take a look here.)
While many issues remain on the bargaining table, the membership has been clear from the beginning of this round of negotiations about our two top priorities:
Protecting our healthcare benefits.
Winning a big pay increase to deal with inflation and our pay being far behind other healthcare organizations.
While in many past negotiations protecting our healthcare benefits has been our clear #1 priority, this time member surveys and discussions have consistently shown that winning a big pay increase is effectively tied with protecting our healthcare benefits, so that we have two equally-weighted top priorities.
Any of you who were here three years ago – when the employer pushed hard for huge cuts to our benefits, and we got within hours of beginning a 7-day strike before forcing back most of those cuts and reaching a fair agreement – know that in order for us to win the contract you all deserve, we have to show the employer our unity and strength. Right now the form that takes is signing the petition to let us know whether you would vote YES, in the event that we don't get a fair agreement by Tuesday night and the bargaining team calls for a strike-authorization vote. If you have a filled-out paper petition to submit, please send them directly to Lynda at Lynda.moua@seiuhcmnia.org.
We don't know yet whether any strike-authorization vote will be necessary. From now through Tuesday night our team will be focused on getting a good contract that achieves both of our top goals, and we hope to be sending out good news to you all sometime next Tuesday night about a tentative agreement and plans for a ratification vote. But we need to be ready for the alternative scenario, in which the contract expires next week and we take a vote on whether to authorize a strike. (Even if we take a strike vote, that doesn't mean we'll strike. We'll keep bargaining right up until the start of any scheduled strike, in hopes of a last-minute agreement like the one we reached three years ago. Have other questions about strikes? Read the FAQ here.)
There will be daily updates from the bargaining table this week and next, by email, video or both, except for tomorrow (Tues. the 24th) when the bargaining team will provide the updates directly to everyone at the CAT (Contract Action Team) meeting. Please join us in person if at all possible (there will be food, and kids are welcome) at 6pm at 345 Randolph Ave., Suite 100 in St. Paul. There's a Zoom option for those who need it, but we strongly encourage you to come in person.
Bargaining Update - January 11, 2023
We're writing with an update on negotiations, after another full day of bargaining yesterday. Contract negotiation is a long and sometimes frustratingly slow process, and we want to keep members informed on what's happening. Many members have been asking to receive more updates. We have a video update from the end of the bargaining day Tuesday for all members to watch and share, and more updates in the email below. And we'll be doing more frequent video and email updates for the remainder of the bargaining process.
Here are remaining dates we're scheduled to be bargaining, right up until the expiration of our current contract on February 1st:
Tuesday, January 17th
Thursday, January 19th
Tuesday, January 24th
Wednesday, January 25th
Thursday, January 26th
Monday, January 30th
Tuesday, January 31st
A welcome video for new members was rolled out and so far, it has been a hit. If you have not had a chance to view it yet you can do so here.
While all the big items like wage increases, retention bonuses, and healthcare benefits remain to be fought out at the table, we were able to reach agreements yesterday on a few new items, including creating protections to make sure immigrant members can get the time off they need to deal with citizenship and other immigration-status proceedings and making sure that if a member's regular days of the week working get changed they are able to continue with any previously-made vacation plans. And many members will be relieved to hear that we were able to successfully fight off management's proposals to expand the geographic range of reassignments from 16 miles to 30, and the number of reassignments per year from 10 to 20……they agreed to drop both those proposals yesterday.
The employer also finally started responding to our many special issues presentations yesterday, with responses made to the proposals from 4 of the roughly 15 groups who came forward with special issues. Mostly the employer refused to move on the special issues they responded to, but there was one exciting example of progress made so far: they agreed to increase the maximum CEU amount allowed for audiologists from $300 all the way to $2,250 annually, the amount the audiologists requested. Once we have received complete responses from the employer to all the special issues members presented, we will report out the status to all the members who came to present special issues proposals.
To get more information/updates about bargaining, and to show the employer we are ready to do whatever it takes to defend our health benefits and win big increases in pay, please attend the next Contract Action Team (CAT) meeting! It's on Tuesday, January 17th at 6pm at 345 Randolph Ave. Suite 100. St. Paul. There will be food provided and kids are welcome.
Bargaining Update - December 10, 2022
We made it through the first two days of contract negotiations this week, with an incredible bargaining team of union leaders.
I know a lot of you are anxious and wanting to know the details of what happened during negotiations. Here are some of the proposals we received from the employer:
HealthPartners has proposed to take away doctor time and states that employees should instead use their sick time for all doctor appointments.
HealthPartners has proposed to change the language for Reassignments. The current language states they can reassign you to another clinic/location within 16 miles. HealthPartners would like to change that to 30 miles, and to allow for 20 required reassignments per member per year, instead of the limit of 10 per year currently in our contract.
HealthPartners has proposed changing our current Overtime policies in three ways: eliminating daily Overtime, making a normal week for the purposes of Overtime 40 hours instead of the current 37.5, and paying Overtime only on hours worked not all compensated hours as we currently have.
HealthPartners has proposed allowing managers to have the ability to give out bonuses to whoever they want, with no accountability or justification and no recourse for anyone who is denied a bonus.
There were many other proposals exchanged between our team and the employer over our first two days, but those are some of the most important ones we received from management. I'm sure one piece many of you are most wanting to hear about, however, is our healthcare benefits.
Most of you as members, and your dependents and spouses if you have them, use and benefit greatly from the health insurance benefits you get through our union contract. Here are the HealthPartners proposals for changes to those healthcare benefits:
For the Classic Plan, Full-time employees:

Classic Single: increase premiums by 200%
Classic Family: increase premiums by 43%

For the Choice Plan: Full-time employees:

Choice Single: increase premiums by 50%
Choice Family: increase premiums by 18%

For the Classic Plan: Part-time employees:

Classic Single: increase premiums by 100%
Classic family: increase premiums by 30%

For the Choice Plan, Part-time employees:

Choice Single: increase premiums by 61%
Choice Family: increase premiums by 39%
Management has also proposed multiple changes and increases in the prescription drug costs we all pay, as well as copay increases for nearly every kind of service with a copay under both of the health plans, with especially steep increases for members on the Choice plan. We will include detailed information about the proposed copay and drug-cost increases in our next email update.
After reading through all that I can imagine some of your stomachs are turning.
Think about how much these changes, if they went into place, would affect you, your family, your co-workers, and their families.
If we give them an inch, they will take a mile.
There is still a long road ahead of us with negotiations, and with all the union's economic demands and proposals still needing to be addressed.
We all need to stand together, show solidarity, and support!
Cost Calculator