Tentative Agreement - September 18, 2023
Wage Scale - September 18, 2023
Proposals
Union Wage Proposal - September 14, 2023: 1 | 2
Employer Wage Proposal - September 14, 2023: 1 | 2
Union Proposal - September 14, 2023: 1 | 2
Employer Proposal - September 14, 2023: 1 | 2
Tentative Agreements - September 14, 2023
Union Wage Proposal - August 9, 2023
Employer Wage Proposal - August 9, 2023
Tentative Agreements - August 9, 2023
Employer Proposal - August 9, 2023
Health Insurance Proposal - August 9, 2023
Union Proposal - August 9, 2023: 1 | 2
Tentative Agreement Reached - September 18, 2023
Today, we reached a Tentative Agreement with Luther Haven Nursing Home! With full committee recommendation, we bargained for substantial wage increases of:
6% (effective October 1, 2023)
4% (2025)
3% (2026)
Additionally, there will be a $0.20 per hour adjustment to Housekeeping, Laundry, Activity, Dietary Aide and Care Helpers scales.
After a long round of negotiations, we feel a lot of good work was done on both sides and we're very happy with the results. Considering how things started, we made a lot of improvements and locked in wage increases that we all deserve – increases that are 3x higher than what was bargained in the previous contract. Other improvements include:
Insurance Costs secure for next three years
Attendance Bonus of $100 if work 60 consecutive shifts without an occurrence or call-in
Increases to the uniform allowance from $60.00 to $100 for full-time and $45 to $60 for part-time employees
Access to EIT after 2 days (was 4), and immediate access if have an infectious disease that can be verified (such as by a test)
Changes to weekend holiday scheduling in Nursing Department
$1/hour increase to Training Pay to $2.00
PTO Paid out when leave, with or without notice or reason
Increases to NOC Nurse shift differentials
Expansions to Experience Credit
Increase to on-call employees to $3.00/hour and minimum of 2 hours of pay if called in
Bereavement Leave to include additional family members
Solidifying language on Union Orientation for new hires
Renewal of Floating Holiday MOU
Read the full Tentative Agreement to learn more about all the changes made to the CBA.
The Union and Luther Haven also agree that short staffing is a concern. They will continue to address and hopefully improve this issue in partnership via recruitment efforts and staff referrals for Luther Haven open positions.
The next step is for everyone to vote to ratify the new contract. The ratification vote day will be next Wednesday, September 27th from 6am-4pm on-site in the Chippewa/Minnesota Conference Room at Luther Haven with options to vote online from September 25th through September 29th as well. Watch for an email and text with more information on the ratification vote soon.
Bargaining Update - September 14, 2023
Luther Haven started negotiations today with a wage increase response of 2%, 2%, and 2%. In their second pass they increased it to 4%, 2% and 2% over the next three years. Your Bargaining Team will continue to fight for more equitable increases and fairness for ALL union members. We also shared the input that we received from the bargaining comment box and the employer still countered significantly lower on wages than we had hoped. We did make meaningful gains on other items such as:
EIT time can now be used after 2 days of PTO
No changes to PTO accrual rate
$3/hour on-call pay for Maintenance with minimum 2-hours paid and longer report to work time
Scheduler position will remain in union
Agreement on Bereavement Leave regarding 'significant others' language
View all proposals and tentative agreements for more details. Continue to share your thoughts and comments in the bargaining comment box in the break room. Let us know what you think a fair wage increase is – one that we all deserve!
Bargaining Update - August 9, 2023
Today was our first day of negotiations with Luther Haven. We made a lot of movement and reached multiple tentative agreements. As far as wage increases, we were disappointed with the low amounts the employer brought to the table when that was the purpose of starting negotiations early. We proposed a 10% across the board increase and Luther Haven counter-proposed that some departments start with a 1% increase. We are hopeful that they will continue to go up on wages and settle at a much higher amount. We were glad the employer agreed to our new attendance bonus, increases to training pay and the uniform allowance, and offered to expand on existing articles within the contract. View all proposals and tentative agreements. We will continue to fight for higher across the board increases for all union members. Our next bargaining date is Wednesday, September 13th so watch for another update then. In the meantime, wear purple to show solidarity and support!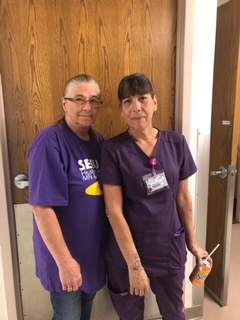 Bargaining Team:
Sandy Randt, Dietary
Kim Schacherer, LPN
Lois Wellnitz, Laundry
Kris Smit, Home Care Aid & CNA