Twin Cities Hospital Early Contract Negotiations Update
Session: 3 (5/19/23)
As of now, we have come to three tentative agreements with the employers. The first TA has language regarding union orientation for new employees, and the second TA is an LOU that requires the employer to bargain with us if they add a new federal holiday or change the holidays that they currently recognize. Any change to any holiday would have to be bargained and approved by us in that event but allows for continued discussion on adding the holidays that are important to our members, like MLK Day and Juneteenth. The third TA is an LOU that provides for the transfer of seniority within the Fairview System for people who transfer jobs after June 1, 2023. The same LOU includes language that would restore seniority to former Bethesda workers who voluntarily transfer to a different SEIU HCMNIA represented Fairview hospital, after June 1st of this year.
The employer has indicated they are willing to increase shift differentials from the low rates we currently have and have had for years. We are hoping that on Monday, we will be able to focus on wage and pension increases for the next three years. Monday is our last scheduled session, and we hope to reach a tentative agreement that we can recommend to the membership.
Twin Cities Hospital Early Contract Negotiations Update
Session: 2 (4/24/23)
Today, we started our second day of bargaining for Twin Cities Hospitals. First, the employers brought their counter proposals. They said that the wage scales were too aggressive. They offered an accelerated effective March 1, 2024 of a 5.5% increase with 3.5% paid now, and the remaining 2% paid in March. For year 2 they proposed a 3% increase and 2% for year 3. They did not suggest any changes to the weekend shift diffs. For the pension proposal they proposed to raise the current contribution to $.75 an hour. An increase of $.03 in the final year of the contract.
We presented a counterproposal because we did not think theirs was sufficient. That being said, we have made movement. We are close on a proposal for the step-increases to include all compensated hours (minus any on-call hours). This would help advance people on the pay scales quicker than before. We have also come very close on a proposal that requires the employer to bargain on language for orientation time for new members. This orientation time will allow the Union to meet with new members to explain benefits. At this time we are holding on MLK day as a tenth paid holiday. We're committed to getting the best possible deal we can with early 2024 raises.
We will be meeting again on May 19th, if not sooner, with a fourth day (if necessary) on May 22nd. Stay tuned for further updates!
Twin Cities Hospital Early Contract Negotiations Update
Session: 1 (4/21/23)
Today, we started Twin Cities Hospital negotiations. We exchanged our opening proposals. Then, at 2pm, the employers made their counter proposals.
While they acknowledged that we deserve more money, they thought that our wage proposals were too ambitious. We will see their wage counters on Monday.
They said it was unlikely that MLK Day would be considered a paid holiday as a whole, but it could be considered with an LOU for each hospital. They said they also have a vested interest in having an established orientation but would need to be something that would vary from site to site. They are willing to talk about the pensions. They talked about the bucket of money they had to work with. They expressed that shift diffs and pensions could be funded depending on the financials of the wage scale increases.
Bargaining Update - April 18, 2023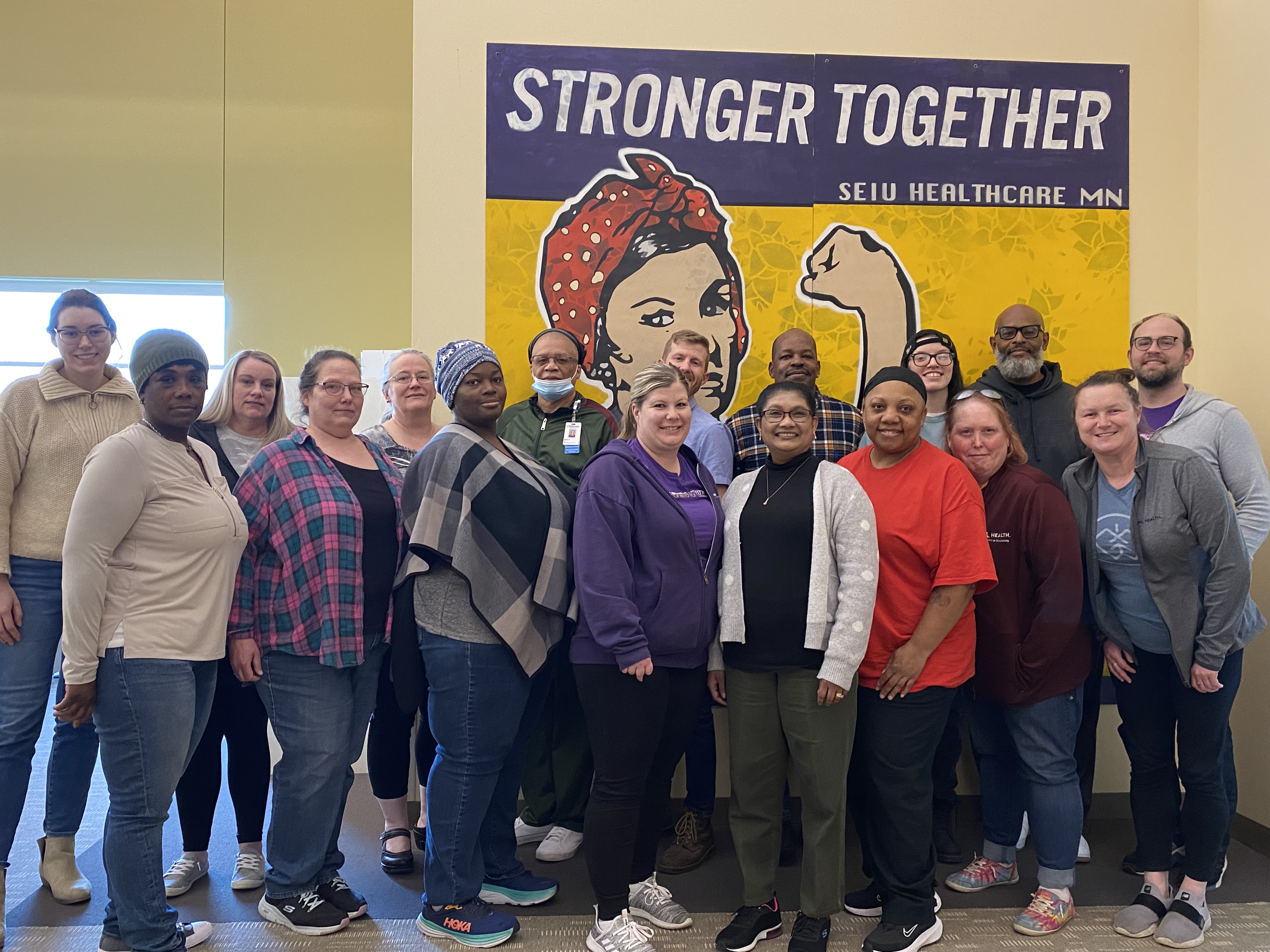 Bargaining Committee Members:
Ricky Owens - Children's Minneapolis
Steph Romero - Children's Minneapolis
Amber Pepek - Children's St. Paul
Carmen Campbell - Children's St. Paul
Emma Veum - MHealth Fairview Southdale
James Holt Jr - MHealth Fairview Southdale
Matt Flemming - MHealth Fairview Southdale
Gary New - MHealth Fairview Southdale
Jennifer Spurr - MHealth Fairview University of Minnesota/Riverside
Morenike Alabi - MHealth Fairview University of Minnesota/Riverside
Mary Lavrenz - MHealth Fairview University of Minnesota/Riverside
Tawanda Jackson - MHealth Fairview University of Minnesota/Riverside
Eric Immler - MHealth Fairview University of Minnesota/Riverside Behavioral Health
William Bader - MHealth Fairview University of Minnesota/Riverside Behavioral Health
Renee Brown - MHealth HE St. Johns
Tammy Heroff - MHealth HE St. Johns
Laura Krause - PN Methodist
Sandy Young - PN Methodist
Tenzin Lhamo - PN Methodist
Angel Evans - PN Methodist
Nathaniel Mordal - North Memorial Medical Center
Kamala Ramnauth - North Memorial Medical Center
Shannon McGovern Welch - North Memorial Medical Center
Ashlee Wredberg - North Memorial Medical Center