October 25th: Methodist SEIU Meet & Greet
Come to Conference Room HVC- B (near auditorium) on Tuesday, October 25th anytime between 11am- 6pm to meet with our SEIU Organizer, learn about current efforts to make our jobs better, and share your opinion.
New Report: SEIU members experience pervasive racism at Twin Cities hospitals
A new report from the University of Minnesota's Center for Urban and Regional Affairs documents SEIU members' experiences of racism at hospitals and exposes hospital leaders' failure to respond. The report details incidents of racism, the impacts racism has on employee morale, health, work performance and careers, offers solutions, and concludes that "addressing the racism described by hospital employees will take a concerted commitment by the hospitals."
We encourage SEIU members to read the report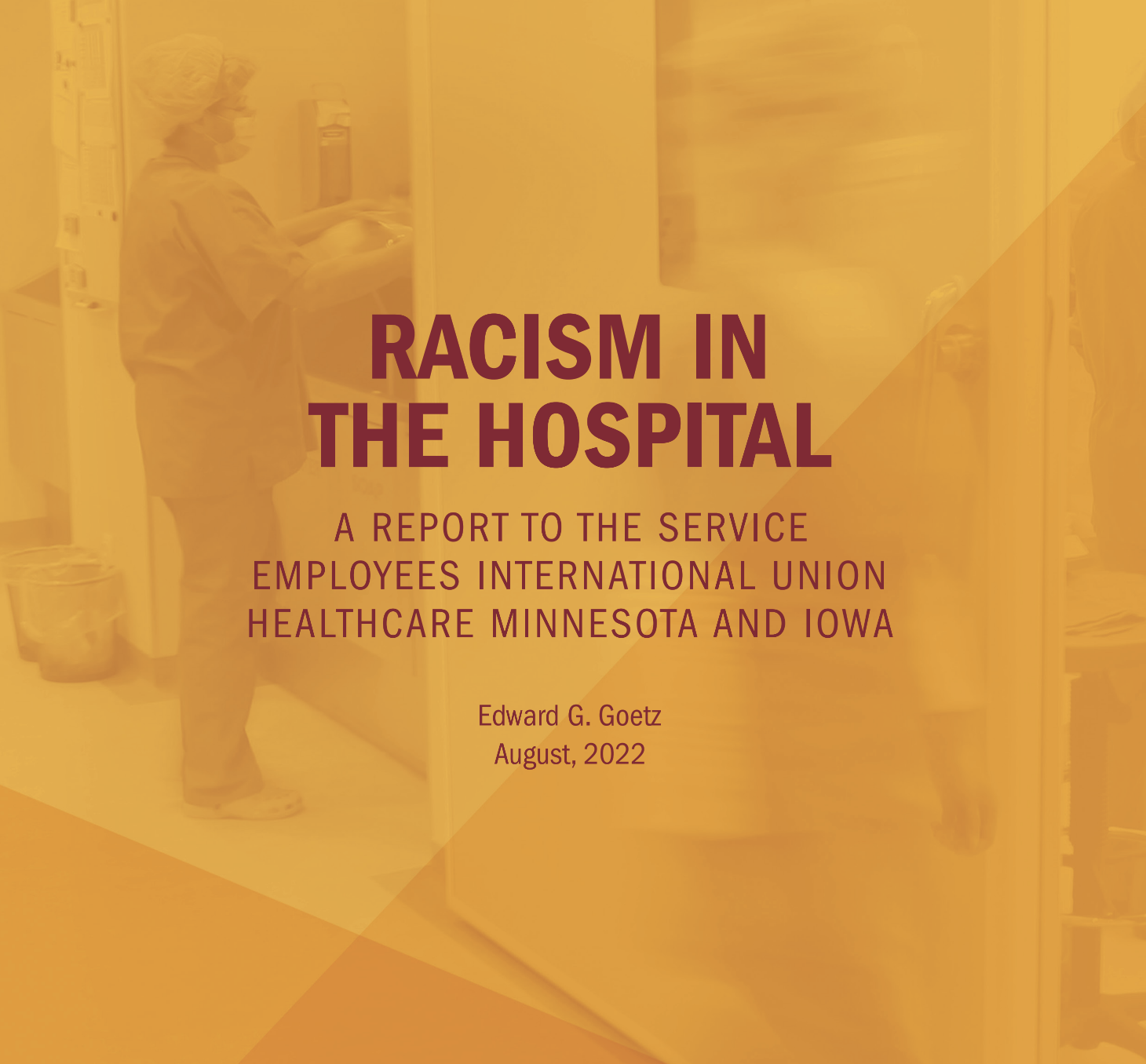 You may find that the information in the report is old news, since a majority of SEIU members experience racism every day. The question is: how can we use this report to help make our hospitals safe and welcome places for all of us, no matter our race?  It is easy to feel hopeless, but as union members we know the only way to change history is to make it.  In the coming months, we will be asking union members to speak up together to demand that hospital leaders to truly partner with us to make our hospitals places where we can come to work, do our jobs and receive equal treatment and respect.  It is time they take incidents of racism seriously!
We want Champions!
When racist incidents happen at work, we need someone to call.
someone we trust
someone who looks like us or "gets us"
someone who will take it seriously & have our back
someone who can track incidents so people with patterns of racist behavior can be identified and held accountable
A committee of SEIU members has been meeting with Methodist Human Resources and managers to urge them to respond to the racism SEIU members experience at work. We have proposed that Park Nicollet invest resources and create a team of "Racial Justice Champions" that would be paid and trained to respond to racism at the hospital. This team could include SEIU members who apply, and also other hospital employees who would be vetted and trained.
We want the hospital to create a way for SEIU members to call on Racial Justice Champions when racism happens at work. We could call them, and they would come and do whatever is needed: listen to what happened and offer support, de-escalated or mediate a situation, educate someone, report the incident, and follow-up to make sure it was handled. Champions could track and record incidents so that people who have a pattern of acting racist could be identified, reported, and held accountable. Champions would be trained, respected, influential.
Human resources leaders say it is a good idea, but they are not willing to invest resources into it at this time. There is already a volunteer committee at the hospital doing similar work to address racism employees and patients experience. That committee is called DIARC (Diversity Inclusion Anti-Racism Committee). DIARC is inviting all BIPOC (Black, Indigenous, People of Color) at Park Nicollet Methodist to a safe space to discuss racism you have experienced and what the hospital can do about it. We encourage SEIU members to attend—and to share with the volunteer DIARC team that we want Racial Justice Champions.
BIPOC Community Safe Space for Employees at Park Nicollet Methodist Hospital
October 7th & 21st    Open:  7am-9am, 11am-1pm & 3pm-5pm
stop in anytime while open  Conference Room HVC-E
Environmental Service Aids Deliver Petition for a Pay Increase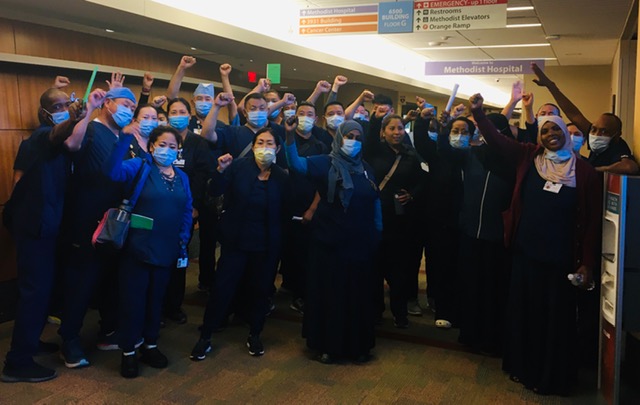 EVS Aids at Methodist delivered a petition for a wage increase to HR and their department leaders last week. They believe the only effective way to solve short staffing is to increase wages. SEIU members are tired of working short, and tired of seeing their paychecks eaten up by the rising cost of rent, groceries and everything.  Surgery Techs delivered a similar petition to Park Nicollet Methodist President Jennifer Myster in August, and SEIU members in the nutrition department also delivered petitions this summer. So far, Cooks have gotten a raise—an increase of about a $1 and hour.  All SEIU members in all departments are welcome to sign and deliver petitions for a wage increase too, just email krystal.klein@seiuhcmn.org to get started.  The hospital is not obligated to negotiate with SEIU members until our union contract expires, but we can advocate for what we need now and nothing prevents the hospital from offering raises now. We all know it is needed!